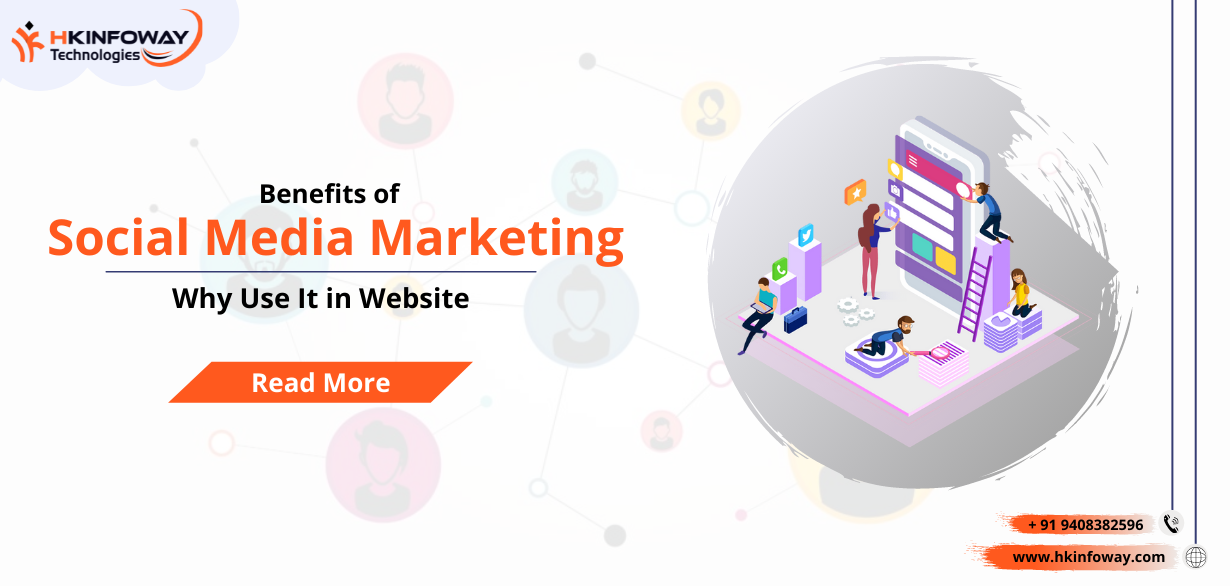 In this technological and digital era, social media networks are increasing. In fact, with these networks, the user base also gets familiar with these techniques and more chances to reach them.
Social media marketing proves to be the essential elements of the digital marketing strategy. Nowadays, various businesses, whether operated online or offline, use this strategy to reach customers.
In short, we can say that it has caused the revolution in the marketing industry to reach customers. In addition, however, it has changed the ways businesses interact with their target audience.
Here, we will discuss the meaning of social media marketing in a short brief. In addition to its essence, we will include the benefits of using these strategies in businesses and increase customer reach.
What is social media marketing?
In simple words, social media marketing means using social media networks or platforms to reach customers. Also, these strategies are widely used to market and promote the company's products and services.
However, companies of all sizes can effectively use this digital marketing strategy, whether established or startups. With the availability of many social media users, it is easy to reach customers.
Within the social media platforms, the customers interact with multiple brands. They use social media platforms like Instagram, Facebook, Twitter, Pinterest, and more for interacting with their selected brands.
According to the study, it shows that the total number of social media users is growing every year. Also, it is expected that this number of customers will keep increasing exponentially.
Benefits Of Social Media Marketing
It is a real-time fact that social media marketing offers many benefits for established businesses and startups. For instance, when you spend seven hours every week to increase your brand's traffic, recognition, and sales with less or no cost.
So, by using these strategies, all this becomes a reality, and a business can increase their consumers, recognition, and sales freely.  Here, we list some advantages and benefits of utilizing social media platforms for business marketing.
However, we will diminish the confusion by drafting the benefits of using this marketing strategy for gaining more customers.
Create your brand recognition 
Many companies' final and essential marketing goal is to gain brand recognition. Due to the innovative technology, consumers prefer to purchase products from brands they are familiar with or know.
However, social media networks provide that advantage compared to traditional marketing methods. In addition, it allows you to showcase your brand in front of people easily and quickly.
Furthermore, it grabs your audience's attention towards your brand even when they are not thinking about it.
The use of social media for marketing can increase sales
Research and analysis show that social media offer a higher lead-to-close rate than any marketing technique. In addition, the brand or business presence on social platforms increases more visibility to reach consumers.
However, your business gets more opportunities to convert potential customers into actual consumers. Therefore, the help of social media platforms in marketing can be advantageous for companies, increasing sales indirectly.
It increases brand awareness
Social media is the most cost-efficient digital marketing services element used to organize content and increase brand visibility. Indeed, you can improve your brand recognition by implementing a suitable social media strategy.
You can do this by engaging with a broad audience of consumers at a time. For example, create social media profiles for your business and interact with users.
Also, you should have people who interact with your content to increase brand awareness. In return, they will start building your reputation as a business. So, when you have a social media page, your brand will get excellent benefits.
Furthermore, regular use of social media platforms for marketing can generate a broad audience for your business.
This marketing strategy will increase inbound traffic
The inbound traffic is limited to your regular customers when you fail to market your brand on social media. In this case, only people familiar with your brand will search the keywords you are ranking for.
This element of digital marketing is necessary when you want to reach an audience outside your loyal customer circle. Indeed, social media is a virtual meeting place for people with different backgrounds, interests, and behaviours.
When you post your content on these platforms, users or individuals can organically reach your business or brand. With the effective use of social media for marketing, you can open your brand to a wide variety of versatile customers globally.
Therefore, the customers visiting your social media profile will work as a gateway to your website. In addition, every content you post will create an opportunity to acquire a new customer.
It is a cost-effective marketing strategy
Social media marketing is the most cost-effective element of digital marketing strategy. In addition, it is almost free to sign up, and you can create a profile on nearly all social media platforms.
However, all the paid promotions are inexpensive on these platforms compared to other marketing techniques. Therefore, it is highly cost-effective and advantageous because it allows you to see a higher return on investment.
In this way, it helps to retain a larger budget for other expenses and marketing tactics. However, when you want to use paid services of this element of digital marketing, you must start with a small plan to see the expectations.
After gaining the confidence, make changes in your strategy and experiment with increasing your budget in your marketing area. Indeed, you can improve your conversion rates with a small investment of time and money.
In addition, you can get a return on your initial investment by applying this strategy in your marketing campaign.
This technique helps in improving brand loyalty
Developing a loyal customer base acts as the primary goal for various businesses. We know that brand loyalty and customer satisfaction works similarly while doing brand promotion.
However, it is critical to engage customers regularly and develop a bond with them. Therefore, this marketing strategy is not only for introducing new products and promoting campaigns for your company.
These platforms will act as a service channel for customers to communicate directly to the brand or company. It is found that the millennial generation has the most brand loyalty than any other generation of people.
Therefore, businesses must use this social media marketing strategy to grab the attention of their influential audience.
It will increase the overall brand authority
The authority of a company or business is the combination of brand loyalty and customer satisfaction, but it depends upon your communication. Moreover, the customers will see how any brand or company publishes a post on social media.
In this manner, they see your way of replying to other customers and posting original content, and they believe you are more credible than others. Indeed, the regular interaction with customers showcases that your brand values customer satisfaction.
By replying to your audience's comments regularly, it shows that the company can answer their questions. In return, customers spread the word when they like your product or service by frequently posting on social media platforms.
Finally, build a satisfied customer base that is vocal about their positive purchase experience. Furthermore, you can allow actual customers to advertise your brand, which enjoys your service or product.
Your business will get a higher conversion rate
With this marketing strategy and higher visibility, your business will receive more conversion opportunities. Every marketing tactic in the form of a blog post, images, video, or remark has the potential to drive traffic to your business website through SEO services also.
While humans interact with social media networks, this strategy allows your business to make a great impression on customers. Moreover, it represents a brand by interacting with customers by sharing content, commenting, and updating online platforms.
On the contrary, compared to social networking, outbound marketing has a complete lower lead-to-close rate. When your business gets engaged online, consumers will find your company's authenticity, who follow your business accounts on social media.
According to HubSpot, 43% of small businesses experienced lead generation benefits from spending more than 6 hours per week on social media sites.
However, you can put your business in an environment where people like, share, and communicate about it can help in higher conversions.
The brand will receive better customer satisfaction
Social media is an online platform for communication and networking with people globally. By using these channels, customers like receiving a personalized answer compared to the automatic reply when they leave comments on your pages.
Customers can become loyal to your brands when interacting with them on social media. However, loyal consumers spend more time with your business, stay with your brand longer, and tell others about your venture.
While responding to a customer complaint, a brand dedicated to customer satisfaction can take the time to compose personal messages that get viewed favorably.
It helps you to get real-time market insights
Gaining marketplace insights is one of the essential benefits of social media platforms. In addition, being active on social media sites allows your business to know the customer's interests and opinions that you might want to be aware of.
However, this marketing element is one of the best research tools available to your business. Another greatest advantage of this marketing strategy is that it allows you to analyze the demographics of your customers.
Furthermore, you can get deep insights into your customers and market your product or services according to them.