With the advent of technology development and digitization, we all use online platforms frequently. However, with the presence of the internet, many people have shifted towards online shopping compared to traditional methods.
This shift has given rise to the online shopping platforms primarily known as e-commerce stores. Moreover, with the increase in e-commerce platforms, the number of virtual stores are increasing at present and in the future simultaneously.
According to the latest research, the e-commerce business's future is bright and has immense growth. However, we know that the ever-changing landscape of the online stores business is exciting and scary at the same time.
Every new year brings changes and challenges to implement in the current business model. However, the changes may help us grow our businesses, and challenges provide us with new opportunities to learn new things differently.
This year, you have encountered many rise and fall because the e-commerce market is expanding brighter and bigger than ever. As we are approaching a new year, we are here to give you the future trends of the e-commerce business.
Indeed, you can go through numerous growth trends, tools, new technology and more helpful in your virtual store business. But if you are yet to open your virtual store, you can acquire our extensive eCommerce website development services.
We will go through the future trends of e-commerce business to prosper, overcome hurdles and increase growth in the coming years.
The Future Trends Of E-Commerce Business
There is a rise of omnichannel shopping experience
We all know that there is a minor difference between offline and online shopping environments. Shortly, multiple channels will become popular in the customer's purchase path.
According to the research, this fact proves that numerous customers used different channels during their purchase journey.
Do you know what it means for an e-commerce business?
The owners of e-commerce stores or businesses need to understand the ways their customers buy a product. Indeed, they also need to know the type of marketing channels their customers engage with.
As an entrepreneur, you have to know the motivation of the customer to buy a product. Therefore, they need to learn about certain things that become their customer's main drivers to purchase products.
In short, the meaning of omnichannel shopping is to decode when, what, where, why, and how people purchase the products that you sell on a specific channel.
Nowadays, there are numerous ways where multiple channel shopping works. For example, customers can research a product online and then buy them from a physical store in the first scenario.
Various people will purchase products online and then pick their orders from the physical store. As a business owner, when your shoppers use more channels, there are chances that order value gets increased.
For example, those customers who utilize more than four shopping channels spent nine percent more in the physical store on average. On the contrary, when compared to those customers, more used only one channel.
In the marketing funnel, every stage is essential because it puts every section of the sales process in the correct order. For example, know your customers' interests and tastes before purchasing to increase sales and profit.
However, all these things will better inform your brand in which manner they promote the products and allocate the marketing budget.
You will integrate online and offline shopping features into multiple shopping channels in the near future.
For doing this, you can create a convenient purchase strategy for consumers who purchase offline and research online.
In this manner, you can use a click and collect marketing strategy, where shoppers or customers can buy products online and pick them up from a store nearby.
It means that you should synchronize your online and offline data. So, you will get an instant and more informed business decision.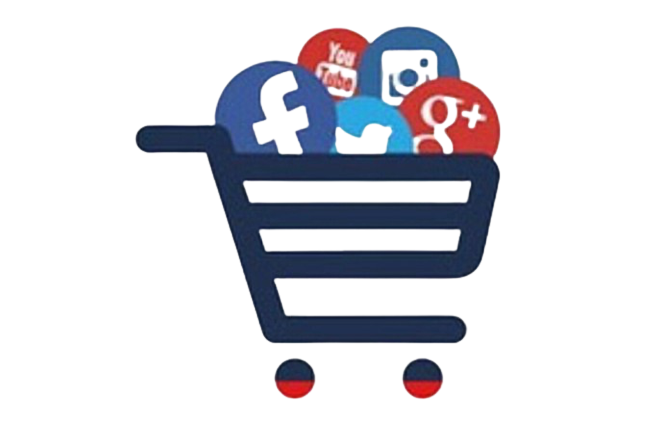 Social shopping will become widespread
Nowadays, due to the rise in social media platforms with the innovation in technology development. Also, sellers and entrepreneurs do more than advertising on Instagram, Facebook, or other social media platforms.
The selling capabilities of social media platforms get improved, and it allows customers to conveniently and quickly purchase products from there. For example, Pinterest, Facebook, Instagram, Twitter, YouTube, LinkedIn, and more are the social media channels.
These platforms have introduced the buy feature and improved their social selling capabilities.
According to a recent survey, Instagram has introduced its shoppable post feature, enabling product tags in their posts and product stickers in stories.
By introducing this new feature, when people view a product story in your story or a product tag on your post, they will see the following details.
They will see the product image.
A detailed description of the product.
The details about the product price and cost.
The link to purchase a product.
This e-commerce trend will cut the time and effort of customers and shoppers to make purchases through social media. In this manner, the social media channels will make the customers shop productively compared to other channels.
This marketing and selling strategy makes big impressions and is widespread worldwide. Therefore, they can set up social media posts early to social selling and reach more shoppers in minimum time.
Also, they think of numerous creative ways to use social channels to elevate and increase their presence.
In the new upcoming year, you can take advantage of this e-commerce trend and start multiplying the numbers of your social media followers with advanced features.
It will become standard to personalize e-commerce platforms
There has been a huge trend of e-commerce personalization among businesses over the past years. But in the upcoming years, it will not be the only trend; it will become a standard. You can also build a custom eCommerce website platform by hiring dedicated node js developers.
Because customer expectation of personalization increases, it will become a standard for e-commerce businesses. Yet, according to the research, thirty-three percent of customers have built their relationship with a business with insufficient personalization.
However, personalization has developed into a more sophisticated marketing strategy. Those days are gone when this marketing strategy deals only to acknowledge a customer by name.
Today, e-commerce personalization means displaying a unique and individual shopping experience to a customer. Businesses will do this process by analyzing the personal information of the customers.
Moreover, these details involve demographics, buying products history, browsing behaviour, and other data related to their shopping journey.
In contrast, there are multiple ways to implement e-commerce personalization into the present e-commerce business model. For example, you can create shopping cart recommendations based on the target audience.
After customers or shoppers complete adding their favourite items to their cart. At that time, you can display relevant products based on the items available on their cart that they will be interested in buying.
Furthermore, you can increase your profit by using automation tools from personalized recommendations. Also, with these tools, you can suggest the most relevant products to the customers as additional orders based on their shopping cart products.
In addition, this e-commerce tool is helpful to create relevant product recommendations on the shopping cart page.
Video engagement will generate more customers
It is proven that the quality of the content can make or break business deals. According to the study and analysis, fifty-four percent of consumers like to see more video content from brands and companies they follow.
The content in the video formats is more convenient to understand and remember. In addition, they have a compelling influence on the customer's purchase journey.
Around seventy-two per cent t of customers say they prefer to watch a video rather than read the text to gain information about a service or product. Nowadays, advancements in technology made engaging videos and generated viewing interest.
There is a new way to host, capture, and share videos uniquely that content adds to business strategies. However, retailers can use video platforms to create attention-grabbing animated product videos.
In addition, they can set up a live stream event within a couple of minutes. Also, the same video will get shared across channels with the potential to reach a large number of internet users.
There arises M-Commerce revolution through mobile devices
With technological innovation and development, mobile is continuously uniquely shaping customer engagement. For the past years, the mobile market has matured and reached almost seventy percent of e-commerce traffic by the end of this year.
This universally growing strategy of mobile usage in e-commerce is due to the user's or customer's desire to complete their transactions without using a desktop.
However, they require the convenience of shopping at their fingertips without visiting physical shops outside.
With mobile and smartphone gadgets, shoppers can research, explore, browse, and purchase products as per their requirements at any time and place. Furthermore, M-Commerce involves using a mobile device for shopping for products.
Due to more reliance on consumers on digital devices, they want to shop online through their social media platforms. For example, several social media networks like Pinterest, Facebook, Instagram, Twitter and more have introduced the buy feature.
Hence, users and shoppers can go shopping without leaving the site by using this feature. Additionally, the one-click option allows customers to shop products without re-entering their payment details which they once added to their card information.
As mobile phone usage is vastly impacting the eCommerce industry, businesses are opting to have mobile apps for their e-stores. If you seek to have one, you are on the right domain as we are a prominent provider of eCommerce app development services.
Introduction of a visual search feature
We all know that search engines are the sources of information. But, the e-commerce experience lacks the user ability to articulate the specific product they are looking for.
For example, the user wants to purchase a specific sweatshirt in a particular colour that they saw on a social media platform. In that case, it is a rare colour shade, and the customer might not be accurately described in search.
In addition, this process makes it harder for the consumer to find the exact product they are searching for in an e-commerce platform.
The introduction of the visual search feature gains popularity within a short time. Moreover, it allows customers to click and upload images of favourite products to search for alternate options with great accuracy.
However, businesses or brands can partner with third-party apps like Pinterest Lens, Google Lens, and many more to visually increase user search experiences.
Increase usage of Artificial Intelligence (AI) tools
In a short time, AI has been widely used to help e-commerce businesses increase efficiency and reach customers effectively in any business sector.
According to the latest survey and analysis, the path of e-commerce services and businesses is expanding rapidly. One of the most popular AI tools is voice assistants which play a vital role in the overall user's shopping experience.
For example, Google voice searches and Amazon Alexa shopping use this voice assistant technology for better search products. This latest technology helps e-commerce businesses to allow shoppers to search for their desired products easily.
They provide a communication platform between the customers and web services using their voice commands. Moreover, this voice assistant technology can integrate into smartphones and intelligent speakers designed for voice communication.
However, nowadays, chatbots are developed to assist buyers in making accurate buying decisions. Also, the bots communicate with a customer in multiple ways with text messages, phone calls, and more.
Therefore, it makes an easy platform to assist customers all round the clock in this manner.
Customer experience will be the priority
Both in-house and online customer experience will become the priority in the near future. In this manner, this metric decides the success rate of your business.
To initiate a better customer experience, businesses can hire in-house sales assistants to guide their customers through the entire sales process. In addition, they can solve the queries and stress of customers during shopping for their favourite products.
They can optimize your sales process through an online medium to take customer expectations into reality with the e-commerce store. It means the user testing your sales process or your checkout flows with actual people, to identify your customer's issues.
The following things users can test on your e-commerce website.
The call to action button.
Checkout process length.
The details or information asked for during the checkout page.
Messaging style and patterns.
The flow of the product page.
However, this activity will improve the customer experience for your business. Nowadays, this discipline has become popular in making big e-commerce trends.
There will be an emergence of new payment methods
Payment options act as primary drivers for the customers to push a transaction towards an e-commerce store. The shoppers or customers will not purchase any desired product from your store without a suitable payment channel.
It is the primary reason to stay competitive and note new payment platforms that your potential buyers demand.
Multiple digital wallets like PayPal, Google Pay, Apple Pay, or Samsung Pay are increasingly used in e-commerce businesses. In this manner, people make purchases through electronic transactions using all these digital services.
However, this payment process makes a more frictionless experience than traditional payment methods. With the convenience of payment within clicks, people demand these digital payments.
According to the study, people expect digital payments to be used more frequently than cash and cards. But, another payment option is creating issues and queries, and it is cryptocurrency.
As of now, we have seen cryptocurrencies being used for large business transactions. But, on the contrary, certain e-commerce stores will accept cryptocurrencies in the upcoming years.
With the increased usage and payment options available, it is meaningless to say. This situation allows online stores businesses to develop customized payment gateways for their merchants.