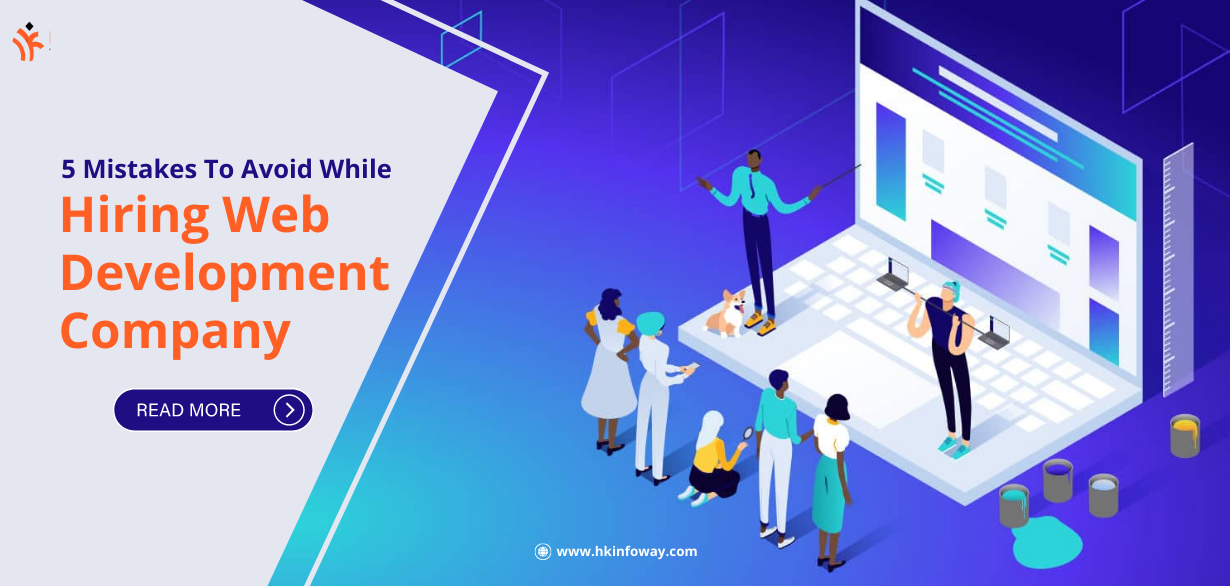 A website is a vital aspect of any business. It is the first touch point where potential clients will get in touch with your company. And therefore, having a unique and impactful website is essential to convert your visitors into customers.
A web development company plays a vital role in making an impactful website. But hiring the right one can be a challenging task. You have to consider many factors to look for that ideal agency that delivers you the best-suited solution.
Moreover, you should also want to avoid making these five mistakes when finding the right website development firm for your business.
The Common Don'ts To Consider When Hiring a Web Development Company
Avoid company that uses outdated technologies
In an industry where technologies go through massive changes frequently, using the same old, outdated versions could lead to many errors and put your website at significant security risks. Obsolete technologies and versions are more prone to creating glitches and security breaches.
Therefore, preferring a web development company that employs the latest technologies is a wise decision to avoid the difficulties you might experience later on. After all, you want to give your customer's the best experience through your website.
Avoid company that jumps direct on the development
An average web development project goes through several phases before the launch. These phases comprise a whole web development lifecycle, of which the actual development or coding is a significant part. But that doesn't mean all other aspects are negligible.
Performing the whole lifecycle in a sequence is essential for the overall quality of your site. So, if a web development firm tells you they'll start coding the very first day you assign them the project, it's time to find someone who knows the importance of extensive market research and audience identification to better understand your user base and give them what fulfils their requirements.
Avoid company from local regions only
The pandemic has made us realise that the location of software development service providers isn't that important. With the increasing technical advancement, the remote working process has become highly prevalent, and IT companies have become more location agnostic.
If you still prefer hiring local web development companies over offshore developers, you're making the mistake of not leveraging the global talent pool. When you hire developers online, you expand your reach of working with experts from across the world.
With the prevalence of convenience of remote working, your focus should be on finding suitable web development companies rather than filtering the location.
Avoid a company that lacks experience in your domain
This is one of the major mistakes you want to avoid when hiring a web development company. A developer's experience in your domain is vital when you want to incorporate industry-specific features. The developers should be aware of standard practices and conventions regarding your industry to create solutions that meet your business requirements.
However, this doesn't mean you shouldn't give a chance to someone who has significant work experience but is not in your industry. If you think the company has the potential to create what you want, go ahead without any doubt.
Avoid a company with an unbelievably lower cost
Web development is a costly feat, and anyone who claims to offer it at unreasonably lower expenses is either inexperienced or dubious.
While saving money would be your first priority, on the contrary, hiring such a developer would increase your web development expense. Inexperienced developers most probably wouldn't be able to offer the extent of software your business needs. This means you would have to hire someone experienced to fix and finish your project.
Similarly, some companies provide the lowest estimate for a generic website that obviously doesn't include your desired features. And when you ask to create them, they might charge higher than the industry standard. In short, companies with lower web development charges aren't wise to hire.
Final Thoughts
Hiring the right web development company is the first step for ensuring the success of your website development project. Considering these common mistakes when hiring developers will help you make a wise decision. If you want to know more about web development or want to hire developers online for your project, feel free to contact us, and we will get back to you in no time.