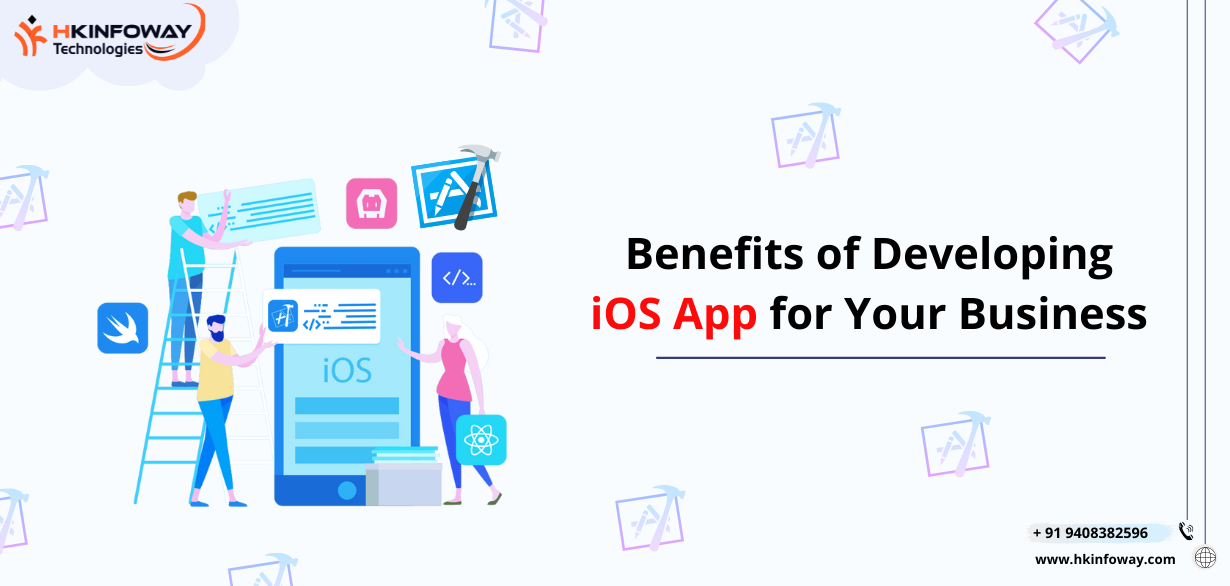 While Android is the most prevalent mobile operating system out there, iOS has its own user base and popularity. Apple has the keenest audience trusting in the brand and its devices.
And you can reap the benefits of this brand sophistication and trust by using iPhone application development services for your business mobile application.
iOS development can provide your business with many advantages. But here, we are giving you some of the major benefits of developing an iOS app for your business.
Advantages of iPhone Application Development
More paying clients
When it comes to purchasing in-app services, iPhone users are more likely to pay for them than Android users. Although Android covers more than 75% of the market, its users are mostly financially average.
On the other hand, because iPhone handsets are costlier, they get possession from a few elite users. And these elite users would not mind spending a few more bucks to purchase premium services. 
Thus, businesses who opt for iPhone application development would likely be paid for their premium services.
Excellent consumer experience
With exemplary hardware, extensive customer support, and flawless software function, Apple offers an excellent consumer experience to its users. iPhone users can run any iOS app on their device without any hurdle. And this causes their customers to be content and satisfied with the company.
Meanwhile, the Google play store has some applications that do not run on some devices. This will not be the case in iOS. So, this could be one of the substantial benefits of having an iOS app for your business.
Apple user interface
Companies flourish, providing a seamless user experience with their application. The more seamless the user experience, the more it helps them build connections with customers.
Apple users like using easy and enjoyable iOS apps. And for this, they have always celebrated the contemporized environment on their devices. So, hiring iPhone app development can make the app more desirable to use, eventually boosting sales.
Hire iOS Developer
From the prominent benefits mentioned in the article, your business would certainly get the highest revenue and growth in the mobile app market. 
If you are interested in building an iPhone application development, hire iOS developers from HKInfoway and lead your business to success through an app.
Enhanced security
One of the notable benefits of developing an iOS app for your business is its security. The Apple company features a high-end security layer into their devices. And this is a delightful feature for businesses concerned about their sensitive data.
iPhone devices are protected against malware, viruses, and other threats that obstacles regular business processes.
iPhone application development can protect users from:
Data duplication

Data encryption

Data theft
Educated user base
As iPhone possessors are generally from an elite group, chances are they might be highly tech-savvy people. iPhone devices have always been an attraction for tech-savvy audiences looking to buy simple yet effective mobile phones.
And therefore, when companies decide to develop iOS apps for their business, they already have the technophile use base. These audiences would love to buy software or platforms you are launching on iOS technology.
Reach to the international market
The global market could be another benefit of developing an iOS app for your business. You can breach into the international markets of developed countries.
As you know, iPhone devices are slightly costlier than Android ones. And developed countries have more user bases that can afford to buy these devices.
So, this would open an international market for your business, helping you grow in developed foreign countries like the UK, USA, and Europe.
High return on investment
Android applications offer much lower ROI as compared to iOS applications. As per statistics, Android applications only provide 10% of the total cost spent on the development, which is not quite profitable to businesses.
iPhone application development could be an effective way to get your business a higher revenue. As it has a greater reach to the global market, iOS apps can generate more return on investment.
Secured transactions
As Apple offers a secure environment for applications users, they can leverage more sophisticated and protected transaction processes. The iOS applications are developed with safe and secure features that shield the OS against hacking, phishing, etc.
iOS applications make payment and transactions more secure by eliminating the threat of security breaches. So, if your business is e-commerce and requires any kind of transaction from your users, iPhone application development would be perfect.
Strong brand value
When it comes to mobile gadgets, Apple is considered the most trusted brand. And it is obvious that anything related to this tech-giant firm would gain utmost trust and reliability among users.
So, hiring a developer for your iPhone application development services can win your brand trust from your audience.