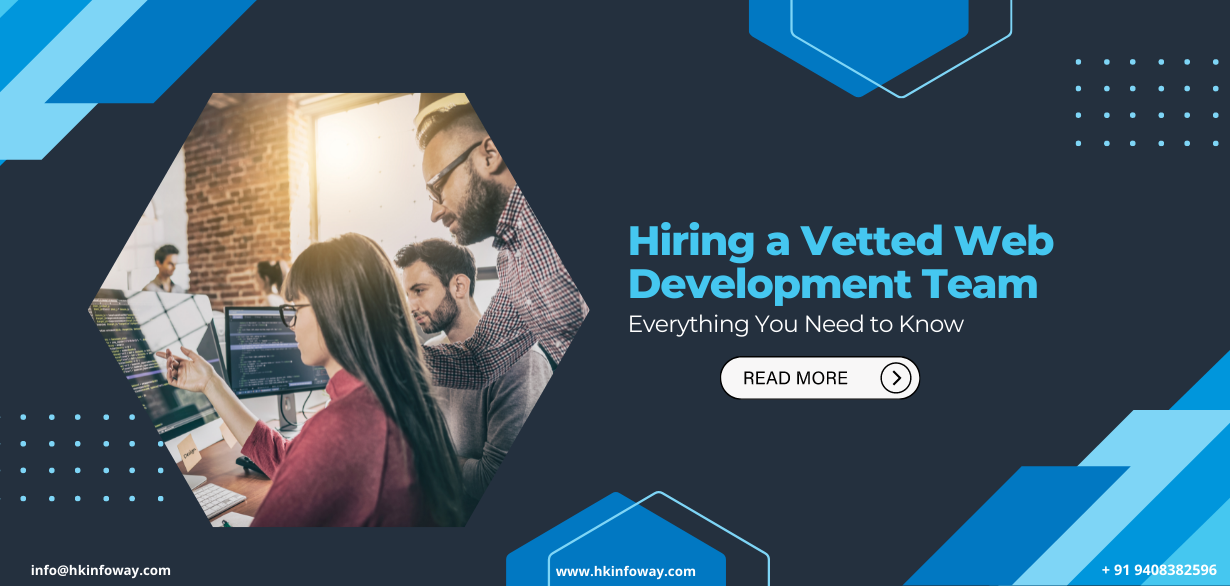 A dedicated web development team is a collaborative agency or group of individuals offering web development services. These teams are the most effective outsourcing model for clients looking for long-term projects. A dedicated team will help you achieve your business goals like an in-house team.
However, an outsourced team of developers differs so that you don't have to bother with taxation, social benefits, and HR issues. This allows you to focus on other aspects of your business while the team builds technical solutions for you.
If you are thinking of hiring a development team for your project, here is everything you should need to know.
Why should you hire a dedicated development team?
A dedicated development team offers you their comprehensive technical expertise to build robust solutions and meet your business goals. They are a more effective option for long-term or complex web development projects. Here are some reasons why you should go with hiring dedicated development teams.
Less active collaboration
Startups are prone to scale, so you need a business model that eases the onboarding process on demand. A dedicated development team is a perfect choice to achieve this because developers are often employed by an agency that likely has access to multiple developers.
So in this model, you can focus more on your issues while overseeing your project's workflow. Since a dedicated development team has a team lead and project manager who overlook every aspect of development, you don't have to keep your active collaboration. You will regularly receive updates from the project manager.
A massive pool of talent
Since the digital revolution is taking place globally, there is a high demand for talented web developers. Freelancing is surely an option to access this talent pool, but often business prefers to hire a development team from agencies because they are more reliable, dedicated, and adheres to utmost professionalism with clients.
Agencies like us conduct rigorous interview rounds and keep hiring processes to choose the best of expertise from a pile of resumes. This assures our clients that they are getting quality solutions from the top 2% of talent in the industry. Plus, since you are not restricting yourself to a region by hiring an in-house team, you get to access the massive talent pool around the world.
Cost-effective development and maintenance process
Cost-efficiency is one of the prominent reasons startups and established organisations hire remote programmers online rather than going for an in-house option. 
If you live in a developed country such as the US, the cost of developing a 50-page website is around $60,000, while the same website could be built for around $20,000 in Europe and even less than that if you hire remote programmers online from Asian countries like India, Pakistan, Bangladesh, Vietnam. With this option, you can leverage a full-fledged team of developers who help you create a top-notch solution at relatively lower prices than the region you live in.
Things you should know before hiring a web dev team
The success of your hiring process includes making appropriate decisions before, during, and after you receive a workforce of dedicated developers. So, before you start your hiring process, you should know these things.
Know your requirements
You should know what type of website you need. This will help you communicate your requirements better and guide you through the negotiation process. So you have to determine first whether you need a website or web app. Both the deliverables are somewhat different and more suitable for distinct purposes.
Once you decide your type of web solution, you have to consider the platform as well. Plus, if it is a website that you want to build, you have to decide whether you want WordPress or a custom-made website. Moreover, if you want to have a mobile application along with a site, you also have to set up a dedicated mobile app development team as well.
Define what you want from the team
Make sure your development team fully understands your requirements before hiring them. For this, you need to define what you expect from your team. Define beforehand if you need consultants, specific industry experts, doers and a full-fledged team for varying deliverables.
Different options mentioned above need different capabilities and deliverables. Your process could also entail a different tech stack and your organisation-specific workflow. A tech stack could also determine and affect your budget, so you also need to be aware of your finances as well.
Determine your budget
Budget is a prominent determinant of your deliverables. Therefore, make sure you allocate enough sum for designing, developing, and maintenance of our website. For a non-technical person, this could be a little confusing, and they often don't understand how to budget their project. In that case, you can receive help from CTO or consultants.
Establishing a budget guides you through the negotiation phase. It will also help you refrain from putting more money than necessary into the project. To get the best and most cost-effective web development team, you can go for offshore hiring from Asian countries like India, Pakistan, or other southeastern Asian regions.
How much does it cost?
Every web development project is different, and you can't determine the exact cost beforehand. Moreover, web development costs vary from region to region. More developed countries like the US, UK, and Australia have high charges for web development, while underdeveloped regions like western European countries and south Asian countries would have low charges. So, if you are a little restricted on budget, hiring a development team from these regions would benefit you.
Here is an average cost of web development in different major countries:
3 Steps to hiring a dedicated web development team
After knowing all the details necessary to hire a dedicated development team, here is a step-by-step guide that helps you go through the process of hiring.
Find a team
There are many ways you can find dedicated development teams. If you choose to go the freelance way, there are various platforms to find freelancers. However, if you want to hire a development team from a website development company, which is a more effective option, there are several different ways you can find and approach them.
If you want to hire a dedicated web development team locally, you can simply google and find agency websites where you can connect with them. For global hiring, you could go to business listing sites and get the contact details of agencies from there. You should also check LinkedIn. Nowadays, every firm has a dedicated company page on this professional social media website.
Choose the best development team
To choose the best development team, first, you should do the following:
Do your research:
Before you jump to make an agreement with the vendor and start your project, you would want to do thorough research on your client and find out their working process and culture.
Give a brief about your project:
Hop on a call with your potential development company and discuss your business goals, milestones, time zone differences, and your preferred engagement models thoroughly before you decide on your team.
Validate the company:
You also want to consider hiring someone to vet the development you are thinking of partnering with
Form an agreement
After choosing the web development company for your project, draft a well-detailed contrast and sign an NDA (non-disclosure agreement) to protect your startup.
Non-disclosure agreement:
NDA is a piece document which is signed to promise not to reveal the specified piece of information. This keeps your solution private from your competitors, even if they hire the same development company.
Detailed and transparent contract:
Make sure your contract covers the following things:
An agreed rate of a certain amount that won't exceed if the development process takes more time than expected.

Cost of breaching contract

Credit period and their limits

Warranty timeframes and their conditions
Conclusion
Hiring a dedicated development team can be a little daunting process. But the points given in the article will definitely help you get your process started. If you want to know more about the hiring process or want to hire a development team, we would love to help you.
We are a prominent web development company offering exceptional services to startups and large organisations alike. Call us on +91 9408382596 or mail us at info@hkinfoway.com, and we will get back to you in a short.