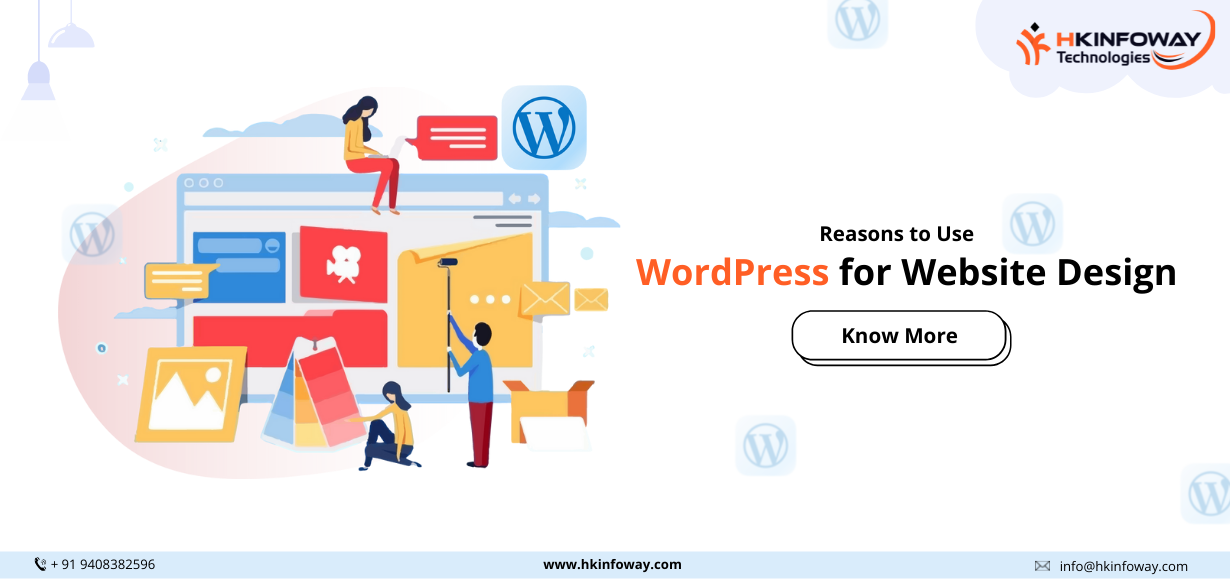 If you are thinking of building a website design for your business, the first name that comes to your mind is WordPress. This website development technology has gained popularity within a short time.
Also, there are various reasons behind its popularity amongst different businesses globally. One of the most popular reasons to use WordPress for website design is that it is freely available and open-source.
What Is WordPress? Is It Reliable Technology For Website Design? 
Also, there is a misconception or confusion around people that it is only a blogging platform. In contrast, WordPress does multiple things apart from blogging. Previously, in the starting phase, this platform has started as a blogging tool. 
But, technological development has made it a powerful website builder and a sturdy content management system, in short CMS. However, it is free to use this website builder and CMS, but you have to pay for hosting your website.
The best part about this website builder is that it is easy to use and flexible to design different websites. It is also another reason behind its popularity at the global level. 
According to a recent analysis and survey, this CMS powers 43 to 59.5 percent of all websites on the internet. Due to its powerful features, many top brands use this website builder or CMS to design their websites. 
For example, the top brands include Sony, Time Magazine, Facebook, Walt Disney, The New York Times, Forbes, Target, and more. Now, let us look at the reasons for using WordPress to make and design your website.
Major Reasons For Using WordPress For Website Design
WordPress is open-source and free to use
First of all, WordPress is free software for website design. It simply means that anyone can download it for free, install, use features, and modify it to match their requirements. In addition, you can utilize it to create or make any type of website.
Though this website builder software is free, still you require a domain name and web hosting to use it. The domain name means the address of your website on the internet. 
Finally, it is the thing that your users type in their browsers address bar to access your business or website. On the contrary, web hosting acts like the house of your website where all your files related to websites get stored.
However, multiple companies in the world provide web hosting services. For example, both WordPress.org and WordPress.com are free to use, but they are different in their purpose.
In short, WordPress.org is a self-hosted version where you will get control of your site and take advantage of advanced plugins. In contrast, the domain WordPress.com works perfectly for complete freshers or beginners.
But this domain is not suitable for an online business that plans to make a considerable profit. So for business purposes, we recommend moving away from the WordPress.com domain. 
It also has higher paid plans, but we suggest it in personal and hobby blogs. Furthermore, this website builder program has been an open-source project since 2003. It means that a collection of contributors developed this website builder program. 
Primarily, you can find plugins and themes for free, but the premium or paid plugins and themes provide quality service support and better features.
It has a large community and is easy to learn
WordPress being open-source software, can be used by anyone to design their website uniquely. Moreover, it comes with large communities to help users regarding website design technology. 
In addition, the users can take part in this community to find the answers to their web development queries. However, the user base is not limited by premium customer support, pricing, or skill level for this website builder or CMS. 
Also, there are various things to learn about WordPress for website design. But, any person will play around with the dashboard for some time and start to absorb the way in which the interface works. Also, there are not many issues with gaining access to the software.
To solve this issue, users have made forums, blogs, online courses, webinars, books, and seminars, all outlining the different topics of this platform. Apart from this, this open-source software has more official customer support. 
However, it is incredible to have multiple resources to learn about this website builder platform. In addition, you can use forums where quick development questions are answered.
It supports multiple media types
You can check out the complete list of accepted file types for WordPress, and all the primary categories get supported. For example, images, documents, audio, video and many more formats. 
While using this CMS or website builder software, you can upload standard files like .jpg, .png, .gif, .pdf, .doc, .pptx, .mov, .wmv,  .mp3, .m4a, .mp4, and .avi. Along with these formats, you can use other obscure file types such as .key, .odt, .ogg and .3gp.
When you want to put a photo, video, gif, or document on your website, it becomes easy with this CMS compared to other web development technology. 
However, you can also host presentations and documents on a website without publishing them on a specific page. This web development technology has the support of any kind of media file. Therefore, you must follow the rules and legally use media that you make, open for free downloads, and many more. 
WordPress offers highly encrypted security levels
We know that no CMS or website is entirely secure. Nowadays, new security threat levels are getting updated, so it is essential to use a platform that offers a high-security level.  
To make your website highly secure from potential threats and malware, you must ensure WordPress always has the latest update. All that includes the CMS itself has an additional component like themes and plugins. 
This website builder software always receives new updates and security patches, so you will have advanced security levels compared to others when you update your version. 
If you want your website more secure, you can use a web host with additional security features. Indeed, you can include other steps to secure your sites by enforcing strong passwords and implementing two-factor authentication.
It offers built-in tools for search engine optimization
We already mentioned earlier that WordPress is built globally for people and search engines. Also, it is an excellent platform for people because it creates a beautiful user experience. In addition, this CMS is perfect for search engines.
The coding and mark-up used to create WordPress websites follow SEO rules and regulations. Therefore, they are attractive to search engines and easy for search engine crawlers. 
However, dedicated plugins get integrated into a WordPress website to manage SEO data, like meta descriptions, H1 titles, meta titles, and more. Moreover, various available SEO plugins allow easy access to optimize web pages.
Also, it provides instant audits of on-page optimization efforts. In addition, this website builder program is easy for everyone to use apart from the developers. Finally, it offers a range of tools and options for improving SEO results.
Also, it has a broad support community related to SEO queries that are easy to access. This website builder program or CMS positively contributes to overall search engine optimization. 
It is the best option for blogging
WordPress was started as a blogging platform. Although it has its competitors, they do not compare to the elegance, power, and advanced tools you can find in this blogging engine. 
Other alternatives for blogging like Medium, Tumblr, Blogger, Ghost, and more are suitable for hobbyists. But, professional bloggers choose WordPress because it provides an incredible set of tools located inside its blog editor.
However, you can run a simple, one-author blog by using the media and formatting tools. It also provides the option to build an entire online magazine by scheduling posts in advance and setting multiple user types for editors and contributors.
In addition, you can get options for previewing blogs, editing posts, and keeping the code unique and attractive using WordPress.
It is a highly customizable website development platform
This website development platform users are not web designers and programmers. However, for non-technical people, this website builder program and CMS is the perfect solution because there are numerous free website templates and themes for selection. 
They will get suitable themes for every kind of website, whether a business site, blog, or online store. In addition, WordPress themes are easily customizable because they come with their own options panel. 
Indeed, this options panel allows you to upload your logo, change colours, change the background, create beautiful sliders, and truly customize it to your needs without any code.
Furthermore, you can use a drag-and-drop builder to customize your design to create beautiful landing pages, product landing pages, sales pages, and more. In addition, you can add custom functionality to your WordPress website by using plugins.  
They act like apps for your website that you can use to add advanced features like contact forms, analytics, membership area, and more. Similar to themes, there are thousands of free and premium plugins available for you to use.
However, you need to keep essential WordPress plugins for every website. For example, some of them are a contact form plugin, an analytics plugin, a search engine optimization plugin, and more depending on your website type.
You can scale your website using WordPress 
We know that scaling a website is one of the most challenging aspects of running a website. Indeed, the more content you publish and the more traffic you get, CMS gets the bigger strain. 
It is the primary thing to select a quality web host to scale your website and make sure it always feels fast. However, the CMS plays a significant role in scaling the website. For example, WordPress powers some of the most popular sites on the web.
Therefore, you know in advance that scaling will not be an issue using this CMS. However, if you want to keep your website fast, you will require the right web host and CMS. In addition, for scaling your website effectively, you will have to do some maintenance work. 
It makes your website easy to navigate with responsive themes
Nowadays, mobile-first indexing is a priority. It means that search engines will use the site experience on a phone as a reference for crawling in their algorithms. 
For you, this means that your website requires it to look excellent and work properly, whether your customer or buyer is viewing it on a tablet, phone, computer, or any device.
In the present day, responsive website design is the norm for websites. Therefore, it is time to change if you have a different website version appearing on mobile and desktop.
The responsive themes and mobile plug-ins of WordPress help viewers easily interact with your business online. In addition, the native user interface of this CMS shows previews of the ways in which your website looks from different viewpoints. 
In this manner, you can quickly see how your website looks even if you do not have any gadgets with you at the moment.