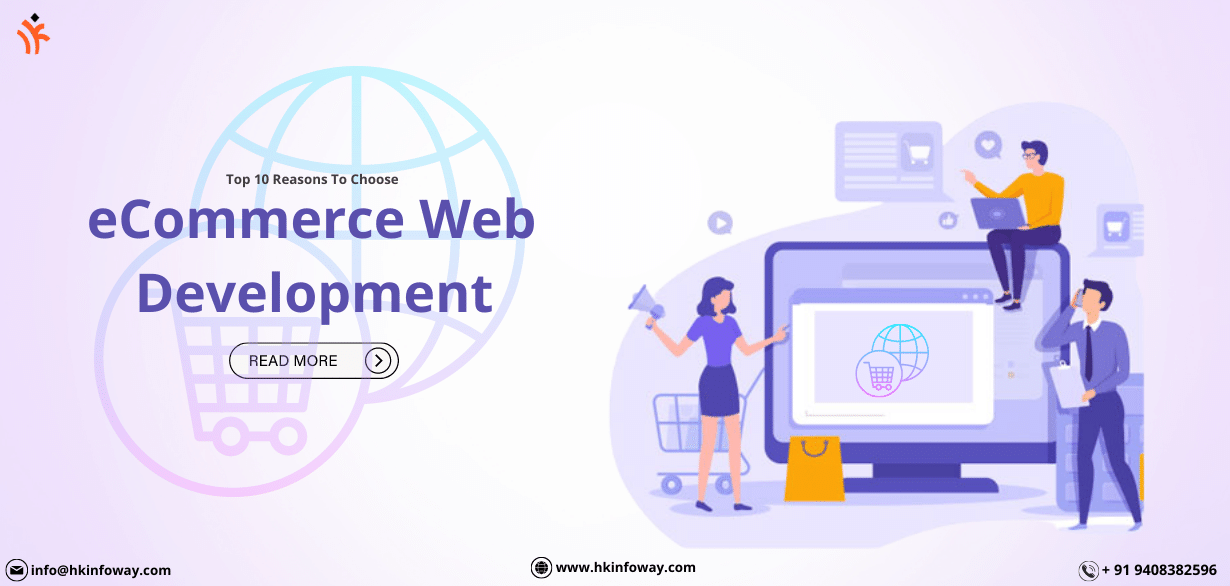 There are over 26 million eCommerce websites in the entire globe, and the number is increasing by the day as new websites are being launched every day. With this, eCommerce web development has become crucial for any business to thrive in this new digital era.
Ecommerce web development is a process of planning, designing, building, and launching an online shopping website. Since e-stores are important today, choosing the best web development company is essential to ensure you get the right solution to make your business successful.
An eCommerce development agency offers complete and comprehensive services for your project needs, from planning to launching. An eCommerce site is necessary whether you are a small business or enterprise. Below are some benefits you should know of having an e-store for your business.
Why you should choose eCommerce Web Development
An eCommerce website is an essential asset for any business. The world is rapidly moving towards digitization, and if you want to secure your business for future changes, you must have an eCommerce website. Here are some benefits your business could get from a website store.
Increase in sales
One of the major benefits of an eCommerce website is the 24x7x365 availability of products and services. Time could be a limitation in the physical marketplace, but websites keep open for shopping all the time. This allows your customers to make purchases whenever it's convenient for them.
Moreover, with the e-store, you don't have any physical boundaries and reach a wide customer base. And without time and location limitations, your business receives increased sales.
Reduction in operational costs
E-Commerce is the most cost-efficient way to expand your retail business. It does not need a high level of investing, and most of the investment is repaid by initial sales. Generally, paying for custom eCommerce website development services and buying hosts and domains costs less than renting physical property for the business.
In addition, Chatbots can handle your customer queries, and automation can handle inventory and finances, so you don't have to hire more workforce to sustain your online business.
The global reach of products and services
Retail businesses have a better chance of reaching out to their customers and promoting their services through online products and services. Since online stores are universally available, you can have a global reach for your products.
With online businesses, you can serve customers who can't find products locally and have to turn to internet shopping. Furthermore, customers can compare products and prices, which is a major advantage of shopping online. 
Wide customer range
You can access a wide pool of customers when you become globally available. You can target a wide market and promote your business with an eCommerce website. You can target different regions and countries of the globe.
Moreover, you can also add different currencies for different countries, which makes it easier for your customers from a particular nation to buy your products.
Simple buying process
The most convenient aspect of online shopping is that customers can purchase things from the comfort of their homes. They don't have to leave their home and wander in a physical marketplace to get the best product at the best prices.
Since online platforms allow them to compare prices, they can buy the best product themselves. Besides this, eCommerce websites can offer safer and seamless payment services, making the user experience more effective.
Automation
An eCommerce website offers complete automation from finances to inventory and shipping to customer services. This means everything can be in one place and easily managed by one person or a single team.
In addition, Chatbots built with artificial intelligence can give your customers a humane touch to your customers while listening to their queries and providing solutions. All these little things can help you focus on other aspects of your business and make it grow.
Low marketing expenses
Marketing in the physical business model is more expensive than in the online model. For online models, you have costly advertising mediums like print and media. As opposed, advertising your online business on the internet is cheap with social media and other digital marketing means.
Moreover, you can opt for Google ads to boost your reach to your customers, similar to newspaper ads but with a much-reduced cost.
Flexibility
People nowadays prefer buying online because it gives them the flexibility to buy things whenever they want and anywhere from the globe. This makes the shopping experience easier and more convenient. Ecommerce was the sole and safer medium of shopping during the lockdown when physical stores were closed.
However, not only do buyers leverage the eCommerce business model, but business owners can also facilitate AI and automation software to have more flexibility when selling online.
Consumer behaviour analysis
Various analytics tools and AI software can help you analyze your customer's behaviour and predict when and what will be bought from you. An eCommerce website incorporated with analytics tools gathers customers' data and analyzes it to find patterns in shopping behaviour. It then provides these insights so that you can make personalized suggestions and give customized offers to gain more chances of purchases.
Good business impression
Your website is the first interaction of your customers with your brand. An effective eCommerce website developer can give your customers a good brand impression, encouraging them to stay longer on your site. A professional website built through custom web development services can drive more traffic and generate more leads.
Conclusion
Whether a small business or a large-scale enterprise, you must have an eCommerce website to cope with this increasingly digitizing world. A professionally built website from the right web development company can put you ahead in the competition and drive more revenue to your business.
Therefore choosing the right agency is equally important when you want to build an online business. If you want to leverage these eCommerce website development benefits, we are here to help. Hire a dedicated developer from HKInfoway Technology and build a robust e-store that elevates your business to new digital heights and thrives.