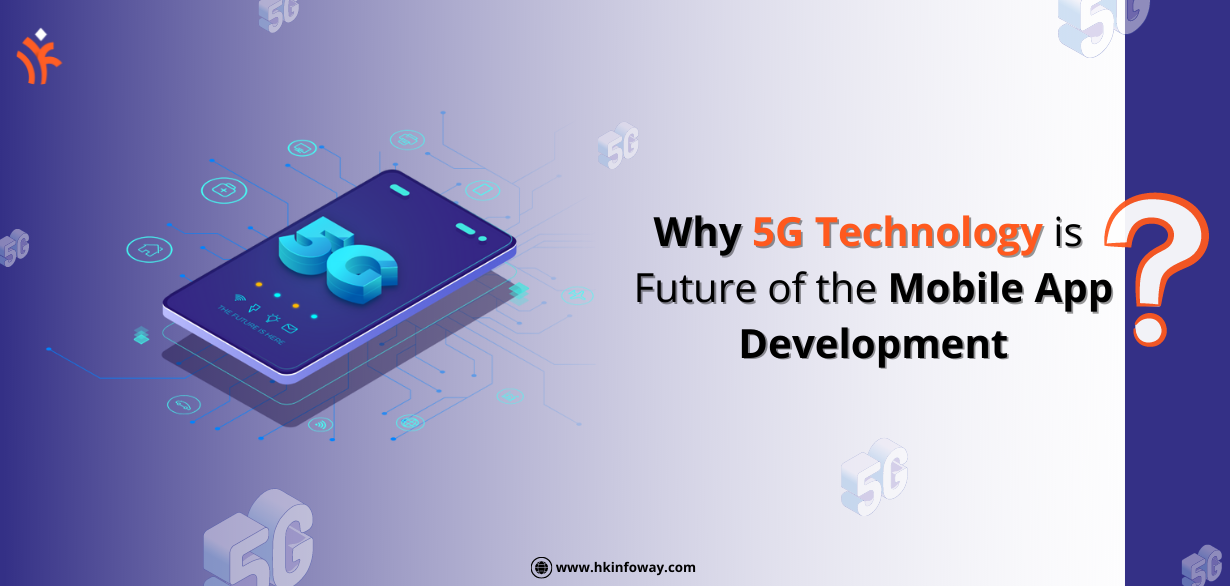 5G is more than just an upgraded version of 4G. It is a revolutionary data network that has the potential to transform the face of mobile app development. It has opened many doors for IT companies, allowing them to offer the best android and iOS app development service provider with new technological advancements.
This tech is an immensely promising technology for the communication and connectivity of digital devices. Since the digital revolution is already prevailing in the mobile industry, It would be interesting to know what impact 5G technology brings to the table. So, let's know how 5G will add to the industry's advancement.
How 5G technology will impact the mobile app development?
5G will allow developers to create smoother and more efficient mobile applications, which in turn improve the productivity of developers and users. However, this is just the tip of the iceberg, and there are various other advantages 5G will offer to mobile development verticals. Let's see how this upcoming technology will transform the mobile world.
Flawless IoT implementation
5G will amplify the use of various connected devices for which developers will build applications. And it will enable the extensive application of IoT through the app development process. These applications will work optimally, consuming less power and lower bandwidth.
5G will also enable developers to integrate AI and ML into their mobile applications and leverage the power of speedy computing. This will supercharge the wide adoption of connected devices, aiding in a smarter and enhanced user experience. In short, businesses will have a chance to grow revenue with this advantageous advanced technology.
Rise of immersive technology
5G will also bring an upsurge to immersive AR and 3D-based mobile app development. The technology will aid in the faster rendering of high-quality animations, allowing users to have an immersive experience that has never been seen. In addition, these apps will be complete game-changers in the industry by allowing the use of 3D features, from 3D printing to immersive gaming.
Such future-proof apps will boost various industries, from healthcare to tech-based and education to construction. An example of this implementation is already in front of us. For example, IKEA has built an app called IKEA Place, where users can try more than 2000 products in a room with a simple touch. And we will see such apps being built more and more in the future, thanks to 5G technology.
More opportunities for implementing AR and VR
For a long time, developers couldn't implement AR and VR in a broad range. However, 5G is more promising and will definitely make this implementation seamless. The AR industry is still in its infancy, though Android and other major platforms have built powerful tools to get developers started.
For example, currently, Android has included ARCore SDK into its environment, allowing developers to offer Java and Kotlin development services with the power of AR. 5G technology will improve the latency and bandwidth issues, allowing apps to offer an improved and seamless experience to users.
Smoother streaming of videos
Another notable advantage of 5G in mobile app development is the seamless and smoother video streaming facility. 5G-powered applications will be able to offer immersive media-rich user experience at high speed. And thus improving the realm of video streaming facilities.
Since 5G ensures low latency, it will allow developers to incorporate high-resolution 4K app features to highlight products and services. In addition, improved battery life, the smoother performance of video streaming apps, and uninterrupted streaming will offer users an enhanced viewing experience. 
Enhanced GPS performance
Although 5G has shown a promising future for every vertical of every industry, GPS-based mobile app development is one of the prominent that are sure to see a massive revolution. 5G will allow GPS-based apps to receive accurate real-time data at a higher speed, resulting in improved performance of navigation-based applications.
Moreover, autonomous vehicles are already becoming mainstream. And this is another field where 5G will prove to be a revolutionary technology. With the introduction of 5G, these vehicles would be better at delivering a connected experience through portable and wearable devices.
Improved cloud compatibility
5G offers incredibly high transmission rates that allow faster file transfer to the cloud. It will also aid in storing and shifting technical infrastructure to the cloud. So now, developers have to take less reliance on hardware devices and can incorporate cloud accessibility into the mobile app development process.
With the introduction of 5G to mobile devices, users will have smoother access to cloud storage, thanks to high performance and low latency. This allows businesses to streamline their processes with cloud computing.
Increased use of personal chatbots
Although chatbots are common now, 4G was still not capable of supporting the replacement of humans with chatbots. However, 5G offers great opportunities in chatbot development. It will facilitate quick response and instant feedback. As we know, 5G will allow seamless integration of AI into mobile apps, and the Android and iOS swift development will take a whole new turn.
Summing Up
5G is truly a revolutionary technology influencing every business vertical. But it will create a significant impact on mobile app development, improving the field for the best. From flawless IoT implementation to an immersive experience and smoother video streaming to improve GPS performance, 5G is believed to touch and transform every facet of mobile application development.
We are living in a golden age of digital revolution, and companies can leverage this to transform their businesses. If you are interested in enhancing your business with the powerful amalgamation of 5G and mobile app development, we can help you. Bring us your mobile app idea, and let us realise it for you. Visit our website to know more and contact us.